If you've been around this blog for a while, you probably already know it's important to me to reduce waste and my family's impact on our environment. Realistically, not all of us are prepared to live off the grid, grow or make everything ourselves, and never touch another piece of plastic again, but I'm an advocate of the small changes we can make in our homes and neighbourhoods that together add up to make a big difference locally and globally.
We already use reusable cloth alternatives where we can: cloth diapers/training pants, cloth napkins, and cloth grocery bags. Other ways of reducing waste are less obvious. For example, did you know that getting regular tune-ups for your car and keeping your tires inflated properly improves fuel efficiency and reduces air pollution?
Many of us practice some form of recycling, and ours is one of those lucky households with a municipal green recycling program. Organic waste is collected from each home and diverted from the landfill to the composting facility instead. The resulting mulch is then sold to local farms and greenhouses to help grow new food. What a great example of cradle to cradle recycling!
I think it's pretty cool that big companies are starting to understand how important it is to reduce waste too. SC Johnson, managed by the Johnson family since 1886 and now in its fifth generation, is committed to environmentally friendly, sustainable business practices. SC Johnson Canada has achieved an impressive waste diversion rate of 98%. That's head and shoulders above my household's rate!
In fact, SC Johnson Canada hasn't sent any waste to landfills since January 2013. They resell or recycle 100% of their e-waste and surplus IT equipment, including hardware, and they've ensured zero waste in office areas by replacing garbage bins with centralized sorting bins. Take a look at this video for some simple tips to help your family reduce waste too.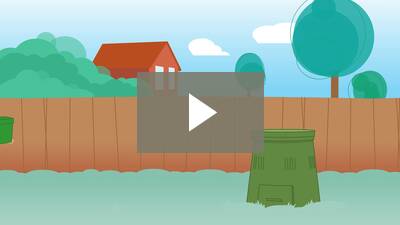 Learning all this has inspired me to take a few steps to get a little closer to zero waste around here, starting with reducing the waste coming into our home in the first place. I will be looking to buy in bulk where I can, or at least choose products that come with less packaging. We're also committed to eliminating our use of disposable plastic bags by using reusable bags as much as possible.
We've also started our fall cleaning, and my goal is to find ways to reuse or recycle as much of our "trash" as I can. My kids grow like weeds, so it's past time to sort through their closets and drawers and box up all the clothes they've outgrown. I plan to donate the clothing in good condition to our local women's shelter, and then repurpose the stained or torn clothes into rags.
As we go through everything that's been stashed away in the basement and various drawers and cupboards, I'm kind of shocked by the amount of old electronics just lying around. Honestly, while I totally understand the attraction of a shiny new phone, nobody needs a new one every year. When we do get a new phone or tablet, the old one still usually works, and I bet someone else would gladly put it to good use. I'm planning to contact local charities, shelters, or my local Freecycle group to rehome at least some of my old electronics.
Failing that, I can keep these items out of the landfill by bringing them to my local electronics recycling depot. Not only does recycling reduce waste, it also reduces the demand for Coltan, a rare mineral that's used to make the capacitors found in almost all cell phones, laptops, and other electronics. Recycling those cell phones and electronics reclaims those elements meaning less reliance on mining operations which can have serious impacts on the environment and animal habitats. That's a win!
Check back with me next month when I'll report back on our progress. In the meantime, I hope you'll join me in taking the #SCJZeroWaste challenge! What small changes can you and your family make to reduce the waste in your home?

Connect with SC Johnson on Twitter and use hashtag #SCJZeroWaste to join the conversation. Learn more at scjohnson.com/blog.
Disclosure: I am part of the PTPA Brand Ambassador Program with SC Johnson and I received compensation as part of my affiliation with this group. The opinions on this blog are my own.